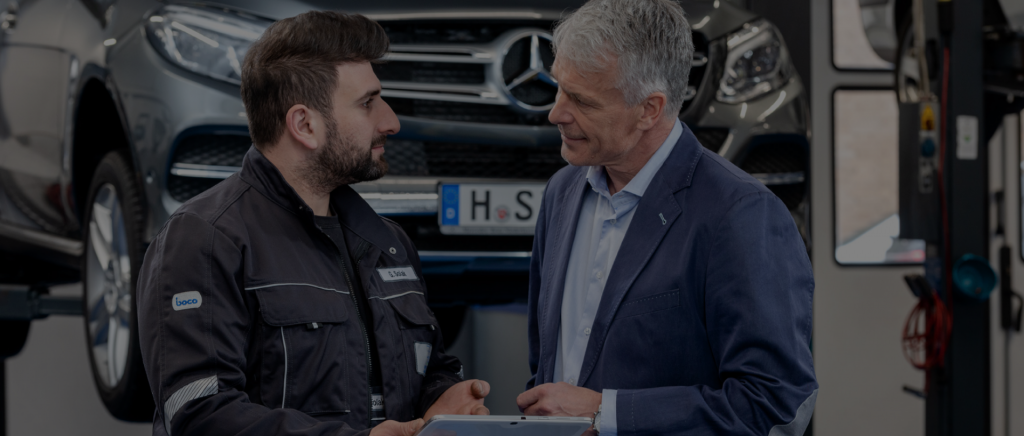 Innovative and future-oriented: our digital services
Tyres for every vehicle
Car, motorbike or bicycle – premium or budget: In Delticom's online shops, customers across Europe can find the right tyre for their vehicle quickly and at a reasonable price. However, convenient tyre shopping is not the only benefit we offer. Our portfolio is complemented by a range of interesting services.
Buying tyres conveniently – thanks to "Buy online, install offline"
How does the tyre end up on the car? With our workshop partner concept, we offer both end customers and workshops added value compared to simply buying tyres. According to the principle of "buy online, install offline", motorists can choose whether they want their tyres delivered to an address of their choice or to one of our more than 38,000 local partner workshops across Europe – who will install the tyres onto the rim in a professional manner – as a special service during the ordering process.
Acquire new customers free of charge as a workshop partner
We are convinced that stationary and online trade can benefit from each other. With our large online reach, Delticom supports local garages free of charge in acquiring new customers who have bought their tyres online in one of our end-customer shops and need a professional local partner. Gaining new customers is expensive and the costs for advertising are high. Save money and use the opportunities of online tyre distribution and digitalisation. You can learn more about the advantages of being a Delticom workshop partner .
Independent tyre reviews at tyretest.com
Whether it's winter or summer tyres, car or motorcycle tyres: Since the year 2000, Delticom AG has been offering tyre buyers around the world an independent consumer portal with the personal experiences of thousands of motorists on the website tyretest.com, which can serve as a decision-making aid for private users as well as a sales aid for businesses in their search for the right tyre for their individual needs. International ratings from a total of over 600,000 published test reports throughout Europe and over 10 billion kilometres travelled ensure reliable results.
In addition, Delticom is constantly developing digital offers. You can stay up to date on our offerings here.